Cat Message
£6.99
Quick read romance.
Nick and Amanda find each other during lockdown after Nick's cat visits Amanda's house and brings home a note.
Paperback only. eBook available on Amazon.
In stock (can be backordered)
Description
March 2020. Ten days into lockdown, comic book artist Nick is struggling with the isolation. When his cat brings home a message from a neighbour, it's a welcome distraction. Soon, Nick finds himself depending on daily messages from Amanda to get through a bout of depression. But, just as he's getting a handle on the new normal, the messages stop coming, and Nick has to choose whether to risk his life for a woman he's never even met.
Bog roll shortages, clapping for the NHS and life on furlough; Cat Message captures the uncertain early days of the pandemic in the UK when people clung to the little things to keep their spirits up.
~ ~ ~
This is a quick read title (novelette length).
eBook available on Amazon (Kindle Unlimited)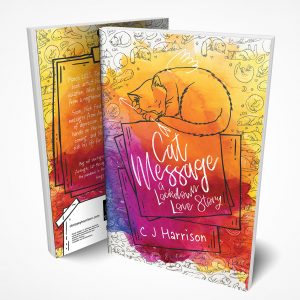 Additional information
| | |
| --- | --- |
| Weight | 0.1 kg |
| Dimensions | 200 × 130 × 7 cm |
| Book Type | Paperback |